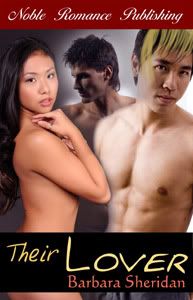 Just like one of the J-rock groups who inspired them ChildsPrey has "switched US distributors" in releasing the last book featuring the band's core members.
Their Lover
featuring CP drummer Kyoru is now out from Noble Romance.
Here, have a blurb:
Danger brought handsome American Ken O'Neill into the lives of ChildsPrey drummer Kyoru Tanihara and his wife, actress Sasao Miyamoto. Once the need for a full time bodyguard ends Ken stays on as both an employee and friend.
After the men share a scripted kiss in a music video, the trio's relationship takes an unusual turn. Old desires awaken within Kyoru, new fantasies in Sasao, and Ken is afraid his presence may jeopardize his friends' marriage.
Reluctantly, Ken leaves the couple's employ but when another frightening situation draws him back into their lives, Kyoru and Sasao will do all they can to hang on to their friend and convince him they're good for each another in every way imaginable.
* * *
I'm a big believer in making related books stand alone as much as possible and think this one does that pretty well. If you haven't spent time with any of the CP boyz check out the entire catalogue:
Orange Moon, Wnter Song, Under a Silver Moon, Secret Moon
(co-written with Anne Cain)
Their Lover